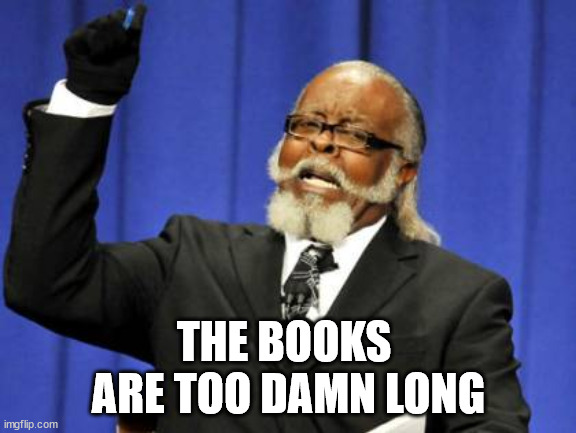 I'm reading (actually listening) to Seeing like a State: How Certain Schemes to Improve the Human Condition Have Failed because everyone keeps raving about it, and while it is an interesting book and it does a good job at setting the premise, and is great at showing the hubris behind believing one can mast complex systems (as opposed to complicated systems) it has the same problem most books have, which is that it's needlessly long.
Now, of course, this was exacerbated by the fact that I was listening to it in the car and it's not really easy to skip ahead.
But still it has the same problems I find in many books, it takes a chapter to repeat over and over the same point. Yes with varying anecdotes and the like, but it's the same thing. And it's not like there is more "proof" in the extra pages in each chapter, it's just repetition of data points and examples.
I feel like most books could be cut by 80% but then have links to supporting evidence and supporting examples.
I loved the part about the architecture disasters of trying to instill order by Le Corbusier vs the embracing of complex systems of interdependence by Jane Jacobs.
But it just belaboured the point. It went on and on about the visuals from the sky metaphors and just kept repeating itself. I got it, your premise is that this is bad and this is why. Giving me 3 more anecdotes about how it was bad in other circumstances is not actually giving me real evidence of this, so I'm not going to change my perception of the truthiness of what you're saying based on you repeating it 4 times with 4 different examples. That's not actually giving me real evidence, it's just showing me more cherry-picked examples to prove your point.
What it should do, it give the premise, give an example to understand context and get a sense of the ramifications of the premise and then, if you have any, link to supporting evidence in the annexes. No one needs to read the same thing 4 times.
I suspect part of the problem is that, if this was a 50 page book instead of a 500 page book, people wouldn't pay $15 for it. One thing I like about Sam Harris((note that this is not an endorsement of Sam Harris, I disagree with some of his opinions)) is that his books are "short"((relatively speaking)), around 100 pages for Lying (Which is an interesting read about how you should just tell the truth) and Free Will((I'd suggest also reading the critical review by Daniel Dennett and Harris response). Taking away your thoughts on the content and the arguments in the book, I much prefer this method of reading and understanding someone's thoughts vs the traditional model of a book.
I suspect there are reasons (be it just that the system is set out that way, that people won't pay for content in different forms, this is a proven form, etc) But I feel like there needs to be something that's a bit longer than Blinkist, but shorter than a 16 hour audio book / 500 pages of repetitive text.